Example of a bauble necklace.
Lately, I have been trying a bunch of new things. Mostly, it's too keep my sanity between school, work and life's everyday trials and tribulations. At any rate, while experimenting with blogging, crafting, fashion and make-up I have found many things that I am loving lately!
First, bauble necklaces. I don't know how to make these beautiful necklaces, but for some reason...I don't want to know. I want to simply enjoy them! I recently purchased a hot pink one and I love it! I wore it today for the first time. I'm not sure people appreciated it as much as I did but...I don't care. I felt cool wearing it.
Second, SongPop. I have mentioned this game several times in the past week and I still play it. Me and my husband do actually. It's addicting and fun!
And third, crafting. I have been trying out new craft techniques, thanks to Pinterest. Today, I was practicing my fabric rosette making skills. I have to say this was a Pinterest success (for once...usually, it's a fail).
I was surprised to find that this actually looked like a rose. YAY! Pinterest success!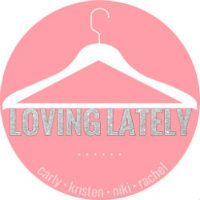 Big, beautiful & broke... Chelsea