1. I know have shelves in my craft room! Yay! Stay tuned for the Messy Craft Room reveal, later today. See how I cleaned and organized!
2. I am half-way done writing my paper for school. It's due Sunday. I totally procrastinated. It's a paper comparing the Islam, Judaism and Christian concepts of God. So boring. And kind of hard to write. (It's for a "cultural enrichment" class...boo).
3. My In Pink jewelry came in! I won $40 towards any items from In Pink in a giveaway. I'm ashamed to admit I accidentally deleted the e-mail and can't remember which giveaway I won them from :(
How cute is the box the jewelry came in? I got an earring and necklace set and another pair of earrings. I'm a sucker for earrings, I can't lie.
4. Day off today! Although, I work the next 6 after this, so I'm not sure that this is a "Top Five"...oh well, I'm happy to have the day off.
5. DETROIT TIGERS!!!!!!!!!! Justin Verlander, you are my favorite. Thank-you for taking us to the ALCS.
Detroit's Hero.
Stay tuned for Friday Letters and the craft room reveal, later today...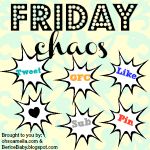 Big, Beautiful & Broke... Chelsea