I have won in a few giveaways now and I have to say, no matter the prize...I enjoy winning! :) I have received ad space, gift cards, jewelry and nail polish. Every girls dream!! The key to giveaway success? Enter as many as you can and fill out as many entries as you can. Simple enough?
Here are some giveaways I recommend entering before they are done in a few days:
And of course, my 100 Follower Giveaway!!
a Rafflecopter giveaway
Now, on to Sunday Social!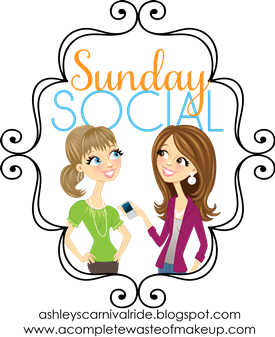 1. What do you value most in life?
My family and friends. Without them, I wouldn't be who I am today.
2. What do you think is the greatest invention in your lifetime and why?
The internet. Can you think of anything that has changed life so significantly? I remember going to libraries and looking stuff up in encyclopedias. Who needs those anymore when you can get the most up to date information online?
3. What do you think is the secret to a good life?
Take each mistake as a learning opportunity. The harder you work towards something, the more worth it it is.
4. What would you most like to be remembered for when you're gone?
Making people laugh. Being a semi-decent person and nurse :)
5. What accomplishment in your life are you most proud of?
When I graduated nursing school, I was the shy student that barely made it through because I was scared and unsure of myself. Many people didn't think I would make it, as I had a rough start to my career. I'm successful and I'd like to think, I'm good at what I do. I am proud of that.
6. If a movie was made about your life, who would you want to play you?
Someone cool like Jennifer Garner or Natalie Portman. Girl next door type.
Big, beautiful & broke... Chelsea