Here is what I am Loving Lately:
I am all about DIY Christmas Decor, and this season, I am going to attempt to make each and every one of these items. I started simply by attempting to re-create number 7 on the list. Here is my attempt:
Supplies
Felt (multiple colors of your choice)
String or Yarn (to make hanger)
Draw a line around the pattern. You will need two mittens for your ornament. For a mitten pattern, click here.
Next sew the buttons on. Then attach the mittens together by using a blanket stitch. The following video will show you how to make a blanket stitch.
Before you are finished, make you sure you put in the stuffing. Then finish your ornament!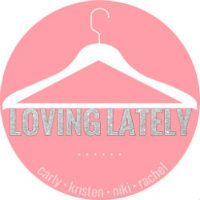 Oh, and ONE more thing before you go...Check out this FANTASTIC giveaway!! Since I have been in bed sick for the past few days, I have been entering giveaways like crazy!! Here's a few I recommend:
And of course, my 100 Follower Giveaway!!
a Rafflecopter giveaway