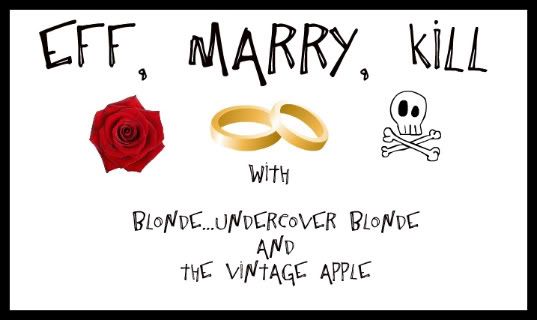 This is my first experience with this link-up! It sounded like so much fun that I had to join in!
Basically, you pick 3 celebrities that you would either like to "eff" (aka make babies with), marry or who could disappear and you wouldn't be sad.
Mine eff, marry, kill is the "Friends" addition...aka Ross, Joey, or Chandler:
Eff - Joey Tribbiani (aka Matthew LeBlanc)
Marry- Chandler Bing (aka Matthew Perry)
Kill - Ross Gellar (aka David Schwimmer)
This was extremely difficult because I love all three. Anyways, Joey is super cute and would make pretty babies so...EFF. Chandler is funny and I can see being married to him as being a good time. Ross is kind of whiny and clingy. So, he can disappear.
Now, clink the link at the beginning of the entry to go link up your own: eff, marry and kill!! Do it. It's fun :)