Thirteen Goals for 2013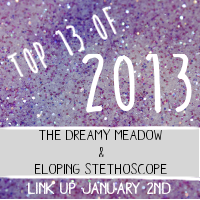 1. Become fiscally responsible. I posted about Dave Ramsey's Snowball plan back in October (read it here). I want to put this plan in action this year. I am taking out my full student loan this semester. It's low interest so I am going to pay off 2-3 credit cards with it and put money into savings. This will help us jumpstart our snowball plan to pay off all of our debt.
2. Work on being a healthy individual. I am overweight, which I am okay with. But I would be more okay with it, if I was more health conscious. I eat crappy food, mostly because I am so busy. I work full-time, I'm a student part-time and a blogger part-time. I am always on the go. I want need to be more healthy.
3. Be more active. I used to work out 3-5 times week. I would love to start doing this again. I felt so much better when I was more active. I feel like such a slug now.
4. Set up a cleaning schedule. I have posted many schedules I have found on Pinterest. I want to actually sit down with Bob and develop one that works for us.
5. Take a vacation. We haven't gone on a honeymoon. Our dream honeymoon is a 2 week trip. One week in Punta Cana and one week in Washington DC. We want to spend a week relaxing, getting massages, sitting in the sand and drinking fruity drinks. We want to spend another week visiting Washington DC and going to museums. We love museums. However, this dream honeymoon probably won't happen for a couple of years. Still, we'd like to get out of town. Maybe Las Vegas...or Florida. We have friends and family in both places, making it an affordable trip (no hotel fees! woot!) I also want to go to the Baseball Hall of Fame.
6. Learn how to sew. My awesome mother-in-law gave me a Singer sewing machine. My mom showed me how to thread a bobbin and the machine. Now I just have to find some easy projects to learn on!
7. Start a plus-size fashion blog. There's so many awesome fashion blogs out and I want to do it too! I love shopping, love clothes, shoes, make-up, etc. I know there's some great plus-size fashion blogs out there and I want to be part of it! Which will bring me to my next goal...
8. Buy a new camera and learn how to take some fashion pics! I am looking at a Nikon or Canon...I just need to save some money to invest in a good camera!
9. Start graduate school and maintain a high GPA. I would be happy staying at a 3.5 and above. Last semester hurt me. I want to do great in grad school!
10. Promote my Etsy store more and continue to add new items. I didn't add anything new while I was in school. I am trying to crochet more and have a more diverse selection.
11. Try to see my friends more. Between school, work and blogging I forget that I haven't seen people in months. Or since my wedding. Which was in June. And that makes me sad!
12. Have more date nights with Bob. We used to have date nights a couple times a month. Now we just sit at home and watch TV...which is fun too. But it's also fun to have date nights!
13. Read more books. Other than textbooks, I think I read 3 books last year. Which, of course, was the Fifty Shades of Grey trilogy. Oui.


Meet this month's awesome sponsor!


Linking Up: