I think I am going to try something different for my Sunday posts. I am going to start re-capping my week. Since I post a lot of subscription reveals, and wish lists and crap like that I want at least one day devoted to insights into my every day life. Not that people care that much (or do you?) but I like to re-read about what goes on in my life!
So, here is my first Weekly Wrap-Up!
Monday, 5/13/13; Tuesday, 5/14/13 & Wednesday, 5/15/17: I just realized I didn't even post on Monday. Probably because I was still feeling like crap! Needless to stay, my Monday and Tuesday were less than eventful due my being ill. I was lucky to have Monday through Wednesday off, so I was able to rest and take it easy. I helped Bob with his homework, for his summer classes. He finally received a letter confirming that as long as he passes these two classes this semester he officially validates for nursing clinicals! Now, we wait for two years for him to actually get into clinicals. And in case I didn't update ya'll, he is no longer on the med school track (obviously), due to money constraints. Nursing is a better option, especially since he was so close to validating for clinicals.
Thursday, 5/16/13: I worked, I was in charge. It was the day of our annual disaster drill. It went pretty well, although it was chaotic and disorganized like always. Other than that, it was actually a good day! For once, my charge shift was not a hot mess.
Friday, 5/17/13: Worked again, and again in charge. This shift, unlike Thursday's shift, was a hot mess. Mostly. It was much busier, with sicker patients. Then for about 30 minutes the computers went down. And when the computers go down...everyone panics. Luckily, the problem was quickly remedied because I was about to lose my mind. Then I came home to find out that Chelsea's (my step-daughters) corsage and boutonniere didn't arrive in the mail. A little background on this: Chelsea sent me text with a picture of a corsage and boutonniere that she wanted for prom (and of course, this was mostly last minute.) So, I tried to find something similar at florists and was not successful. She preferred fake flowers so she could keep it, so I googled searched the picture and found the exact ones she picked out being sold in an Etsy shop. I contacted the owner and she told me she could have them to us by Friday. Well, she accidentally sent them to someone in Kentucky. Seriously? So, then we spent the evening scrambling for ideas...which brings us to...
Saturday, 5/18/13: Chelsea and I got up early to go to Michaels to buy fake flowers to make the corsage and boutonniere. I was grumpy. I can't even lie, I was so irritated with the situation. However, Chelsea ended up making a super cute corsage and boutonniere. I am very proud! After that, Bob and I cut the grass and worked in the yard then just relaxed. Here is a picture of Chelsea and her boyfriend, Jesse, before prom:
How was your week? Does anyone else do a Sunday re-cap? If so, link up your post below!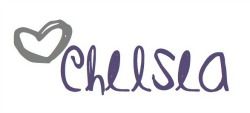 Meet this month's awesome sponsor!