Only 30 days left of my "blog everyday for a year" goal. I have to admit...it's getting very difficult to come up with interesting content EVERY DAY. I think it's hurt me a bit in the blogging world. I am almost thinking of ending it early. What should my new theme be for my blog titles? Instead of starting with Day #whatever, maybe I should do like the "Friends" show titles and do something "The one with..." What do you think?
I love, love, love my June Glam Bag!!! The theme this month was "On the Wild Side" and it was definitely a fun bag!!
First, I love the bag!! The animal print with the neon zipper is super cute!!! Anyways, here is what I got:
I have only worn fake eyelashes once, and that was for my wedding...however, I loved how they looked! I am excited to try them again.
I went from needing blush to have a TON! However, I love trying new shades. I love this one!!
I don't use lip liner much, but I like experimenting.
Four. J.Cat Sparkling Cream Palette
Who doesn't love glitter??? Reminds me of middle school! This is glitter than can be easily applied. Not to be used around the eyes.
Five. Ivory Lace Highlighter Pencil by Chella
For more information on Ipsy's Glam Bag, click here.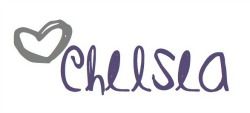 Meet this month's awesome sponsor!